Designing Multinational insurance programs is not always easy and various aspects need to be taken into consideration. AIG has a long experience in Multinational insurance and AIG Finland's experts on Multinational insurance would like to share what we think is important when setting up Multinational insurance programs.
The compliant way
AIG Multinational is leading the way serving clients all over the world. Our Multinational team understands regulatory realities and capital and tax concerns around the world and also exposures, coverage and proof of insurance needs wherever on the globe the client operates.  "We build the Multinational programs so that they are compliant in all the territories of the insured's operations. The benefit of a broad international network is that we have more control over the service towards our clients, such as making sure the policies are consistent, reliable and issued correctly. In addition, we are able to provide a sustainable service and local claims support when the insured needs it the most.", highlights AIG Finland's Multinational Account Specialist Oxana Östman.
The 7 Cs of Controlled Master Programs
AIG is able to issue controlled master programs (CMP). CMPs offer the benefit of both a single global policy and multiple local policies tailored to match a client's local requirements. A master policy covers multiple territories and provides consistent coverage and limits. This is underpinned by policies issued locally for each country, which means local premium payments, local claims handling, local compliance and local certification.
"We like to highlight the 7 Cs that are important to take into consideration when planning CMPs: Compliance, Confidence, Cost, Claims, Certainty, Consistency and Control.", sums up Ulla Krigsman, AIG Finland's Multinational Account Coordinator.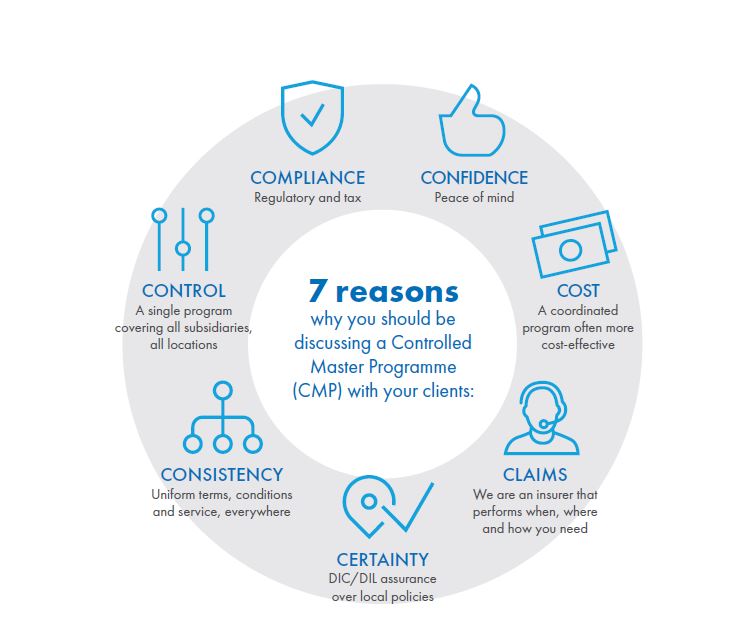 Make the most out of technology
AIG aims to make the client's experience of designing, controlling and managing Multinational insurance programs as easy and seamless as possible. To enable clients to make well informed insurance decisions, AIG provides its clients with three distinctive tools:
1.    Multinational Insurance Fundamentals
This tool is a free, online training for Multinational risk assessment and program design accredited in multiple countries.
2.    myAIG Client Portal

This comprehensive system provides access to all Multinational insurance program details and robust business intelligence.
Tailor made premium allocation
"In addition to everything mentioned above, one of our strong suits is that AIG combines the clients' specific exposures with their Multinational knowledge, expertise and capabilities to make sure they can make informed decisions", points out Krigsman.
"Our key principles in premium allocation are that premiums should reflect the risk presented by the individual territories and that the offer must meet local tariff requirements and satisfy local minimum premium requirements", concludes Östman.
Learn more about Multinational Insurance Programs.